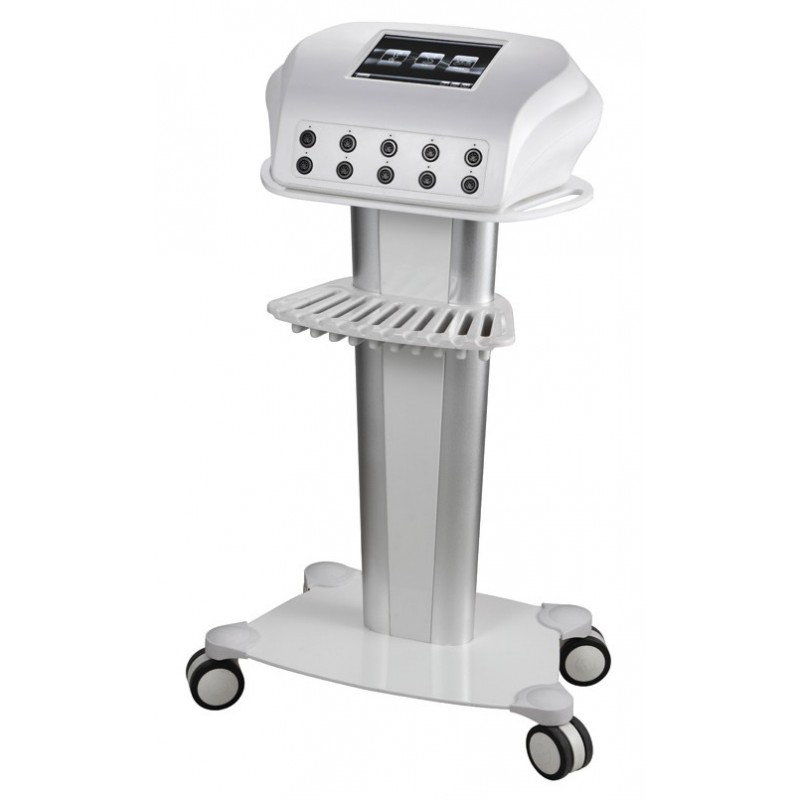  
 Add these extra products to your cart

Ultrasounds conductive gel 5L
Regenerate Micro Current Ultrasounds conductive gel 250ml
Skin Boost Collagen Gel 250ml
View more
View less

Description
About the electrostimulation
The electrostimulation is a type of treatment to remodel the body by means of corporal electric pulses that provoke muscular contraction and, as a consequence, we obtain an effect similar to the one we would obtain by exercising the muscles in a traditional way. It is passive exercising, which allows to tone the muscles and to fight muscle flaccidity by increasing its volume, strength and resilience.
What does it consist of?
The electrostimulation is based in applying currents that simulate the electric pulses that are sent by the nerve system to the muscle to make it tighten. This stimulus appears by placing a pair of electrodes on the area to be treated with the aim of making the muscle tighten, as it was receiving the nerve impulses from the brain. The muscle does not distinguish the voluntary from the involuntary tightening, which appear without any effort from the patient and in a very safe way.
Which are the effects?
The electrostimulation combined with an equilibrated diet strengthens the muscles and make them more resilient; it improves the blood system of the lower part of the body and helps eliminate the excess liquid. The electrostimulation treatment brings very positive results to relax and massage the muscles, stimulating the lymphatic flow and improving the muscle tone in arms, thighs, buttocks and legs. It also contributes to eliminate toxins, grease deposits and to strengthen the breast tissue.
Uses
This technique offers a wide range of treatments as it can be applied in multiple areas of the body, such as buttocks, hips, abdomen, arms, legs and face.
Sessions
An electrostimulation session lasts approximately 30 minutes and should be carried out 2 or 3 times a week. After 4 or 6 weeks, you can notice a significant decrease in liquid retention and the grease deposit volume, as well as the muscle tone.
The electrostimulation equipment DIGI-TECH for professional use is composed of a main unit, placed on a column with a 4-wheel base of easy assembly, which allows to freely move the equipment.


The main unit has a touch digital screen of 8" and allows to choose the language between English, Spanish, French, German and Italian.


The equipment is fitted with 10 channels in which three types of self-adhesive electrodes get connected. They are clipped to the cable.


The original packing includes 30 pairs of electrodes of different sizes:
Circular-shaped electrode (diameter of 4 cm) conceived for toning treatments, especially facial.
8-shaped electrode (8,5cm x 4,5cm) for bigger areas: back, thighs, hips, waist and abdomen.
Oval-shaped electrode (7,7cm x 4,4cm) for small areas.
Once the language is chosen, the DIGI-TECH programmes are gathered in three main groups: muscle strengthening, Body slimming and Massage & health care.
Each of these programmes offer specific programmes according to the area and the desired effect with the chosen treatment:
Muscle strengthening
•Chest
•Abdomen
•Shoulders and arms
•Forearms
•Back
•Thighs
•Calves
Body slimming
•Breast enhancing
•Breast lifting
•Waist and belly reduction
•Hips reduction
•Face toning
•Calves slimming
•Thighs slimming
•Arms slimming
•Back toning
Massage and Health care
•Full-body lymph drainage
•Lymph nodes circulation in the lower body part
•Areolar tissue and abdomen
•Improve areolar tissue resistance and eliminate toxins
•Chest drainage
•Arm and shoulder massage
Individual price
€1,391.50
(IVA incl.)
Tax included
---