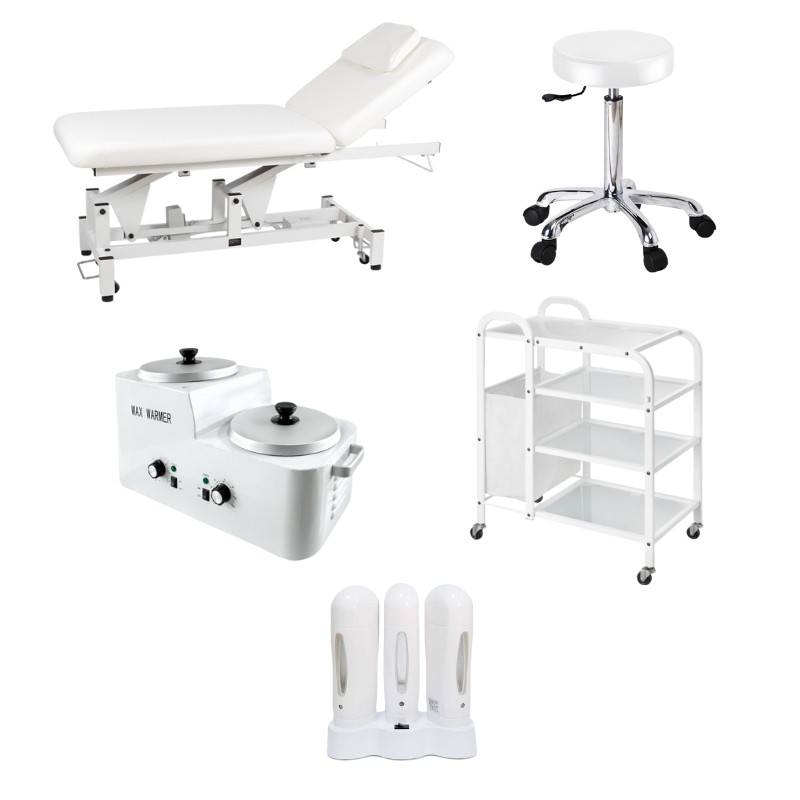  
Description
Full Depilation Pack for beauty and hair removal centers.
The pack includes:
1 MINOS electric stretcher (1 motor): 2-section stretcher with a very stable metal structure. Equipped with 1 motor that controls the height and inclination of the adjustable backrest by means of a gas piston. Removable headrest cushion with face hole. Wheels with movement that facilitate its movement. High quality white PU upholstery that is easy to clean.
1 SATURNE stool: with flat and circular seat with adjustable height by means of a gas piston. White upholstery in high quality PU and chrome base with 5 wheels.
1 HERMO 4-shelf trolley: trolley with three shelves and metal structure.
1 5-liter wax melter: 2 2.5L containers with filter and with a temperature of 0 - 105ºC
1 Trium roll-on warmer: Base with three roll-on wax warmers. Ergonomic design quick to reach the optimum temperature thanks to its interior design. It includes an internal thermostat to maintain a stable temperature of the roll-on. Valid for universal roll-ones of 100 or 110 ml.
Individual price
€1,163.23
(IVA incl.)
€1,368.51
-15%
Tax included
-15%
---