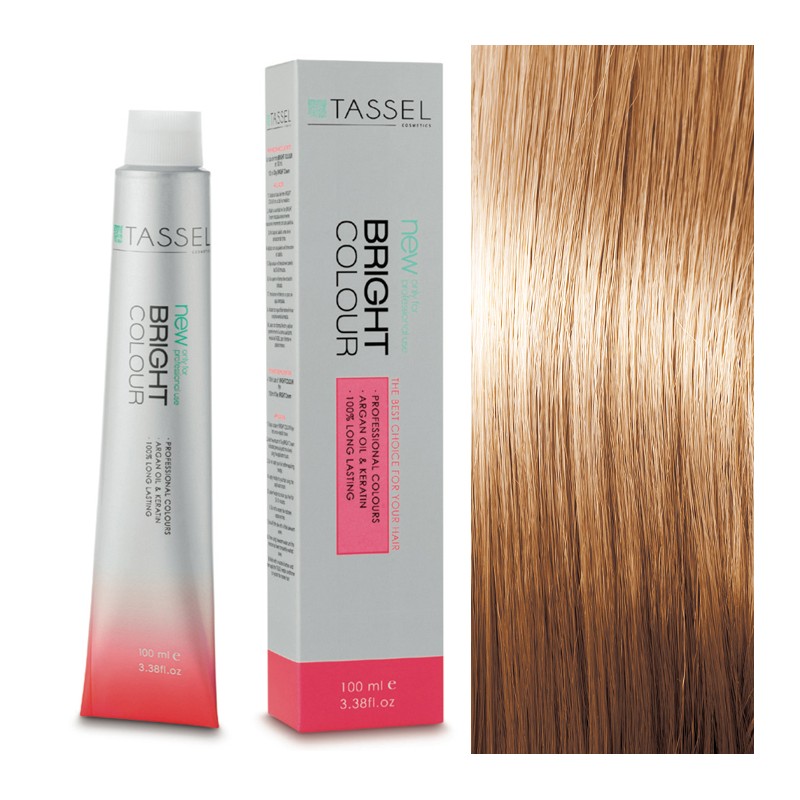  
Hair dye Tassel n9.3 Bright Color - very light golden blonde
Description
✓ Hair dye Tassel  mix 1+1.5
✓ With argan oil, keratin and vegetable waxes
✓ Lasting, brilliant and professional result
View more info 
 Add these extra products to your cart

Tassel oxycream 20 vol. 1L

Tassel oxycream 30 vol. 1L

Dye anti-stain protector - DYE PROTECT

Tassel bleaching - DECO-PLEX 500gr
View more
View less

Data sheet
Content

100 ml.

Color

Blond
Description
Professional hair dye n9.3 Bright Color - very light golden blonde. Formulated with argan oil, keratin and vegetable waxes that help fix the color while offering extra shine and protection to the hair.
Mix 1+1.5 (1 tube of color + 150 ml of oxycream).
Development time: 25-30 minutes.
Proportion per service:
- For long and/or thick hair: use 100 ml of hair dye and 150 ml of oxycream.
- For medium/short and/or thin hair: use half: 50 ml of hair dye and 75 of oxycream.
We recommend using with Tassel Cream Oxycream 20 Volume, although it could also be used with Tassel Cream Oxycream 30 Volume.
Steps to apply the Tassel hair dye:
 Preparation: before starting, prepare everything you will need: gloves, towel, bowl, brush, comb, brush...
 Protection: protects skin and clothing. Place a towel around your shoulders and use a protective cream around the scalp on the face and neck, to avoid damaging and staining the skin.
 Mix: in a bowl, mix the contents of the Tassel hair dye tube together with the chosen oxycream. The quantity to mix will depend on the length and volume of the hair. Use the brush to mix both components well until they are well integrated.
 Application: Part the hair into sections and apply the Tassel Hair Color with the brush, starting at the roots and working towards the ends. In the case of gray hair, we recommend starting at the front; if not, from the rear. Apply to dry hair, not wet.
 Waiting time: once all the hairdressing tint has been applied, it must be left to act. In the case of Tassel Bright Color dye, it is recommended to leave it between 25 and 30 minutes. However, the waiting time may vary depending on the color tone chosen or the hair itself; you have to look.
 Rinse: after the waiting time, it is time to rinse the hair with lukewarm water until the water runs clear. Then, wash your hair with a color-protecting shampoo, and lastly, apply a mask or conditioner to soften and nourish your hair.
Note: the way to apply a hair dye can vary in specific cases such as going from black to blonde, considerable changes in tone, etc. We are not responsible for the misuse of the dye hair by the client. In case of doubt, please contact us first. In cases of first coloring, it is advisable to carry out a sensitivity test to rule out the existence of any allergy to hair coloring products.
Individual price
€5.95
(IVA incl.)
Tax included
---