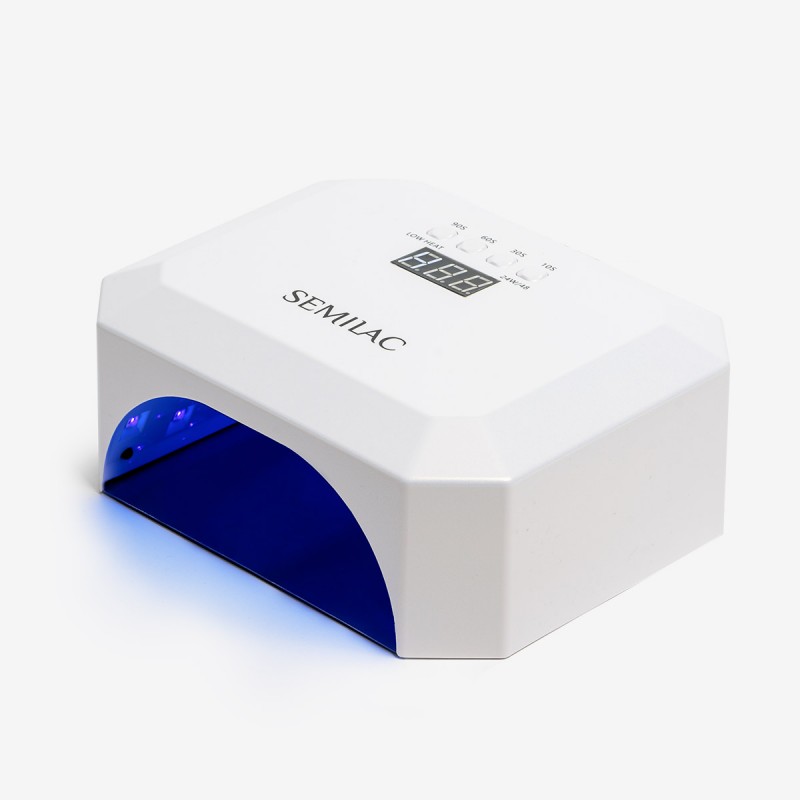  
 Add these extra products to your cart

Semilac nail polish nº2 (Delicate French)

Semilac nail polish nº31 (Black diamond)
Semilac nail polish Top no Wipe
View more
View less

Description
The rectangular UV LED lamp with a subtle pearlescent finish cures all Semilac semi-permanent enamels, gels and acrylics as well as other products that require curing with UV/LED light.
A large digital display makes it easy to work with, indicates the time remaining until the end of the melt and the low temperature mode gradually increases the lamp power to minimise discomfort during curing.
The lamp works for both manicure and pedicure treatments, and will also be an ideal purchase for everyone starting their adventure with semi-permanent manicure.
Lamp features:
- 4 curing modes with aesthetic diamond-shaped buttons:
10 seconds and 24W/48 operating mode.
30 seconds
60 seconds
90 seconds (low heat mode)
- Low Heat mode : the lamp gradually increases its power, thus minimising the risk of burning and wrinkling of the enamel.
- Dual LED technology combining two types of light (365 nm + 405 nm), thanks to which the lamp cures all products reliably, quickly and evenly.
- Dual power mode: 24W and 48W mode allows the light power to be increased independently.
- Digital display: a large electronic display shows the time remaining until the end of curing. In H90 mode, the active operating hours counter is displayed.
- Motion sensor : the lamp switches on automatically when the hand is inserted.
- The rectangular shape and size allows you to put your whole hand in the lamp, and the removable bottom makes it easy to clean and perfect for pedicures.
- Very quiet operation of the device.
- 36 periods. High efficiency: 50,000 hours of operation. No need to replace bulbs .
Technical data:
Weight: 0.59 kg
UV wavelength: 365 nm + 405 nm
Dimensions: 210 x 170 x 85 mm
Input voltage: 200-240 VAC / 50 Hz / 60 Hz
Output voltage: 24 VDC / 1.0A
Power: max. 30W
Package contents:
- Semilac LED UV lamp
- Power supply unit for Semilac LED UV lamp
- Instruction manual
Individual price
€72.60
(IVA incl.)
Tax included
---