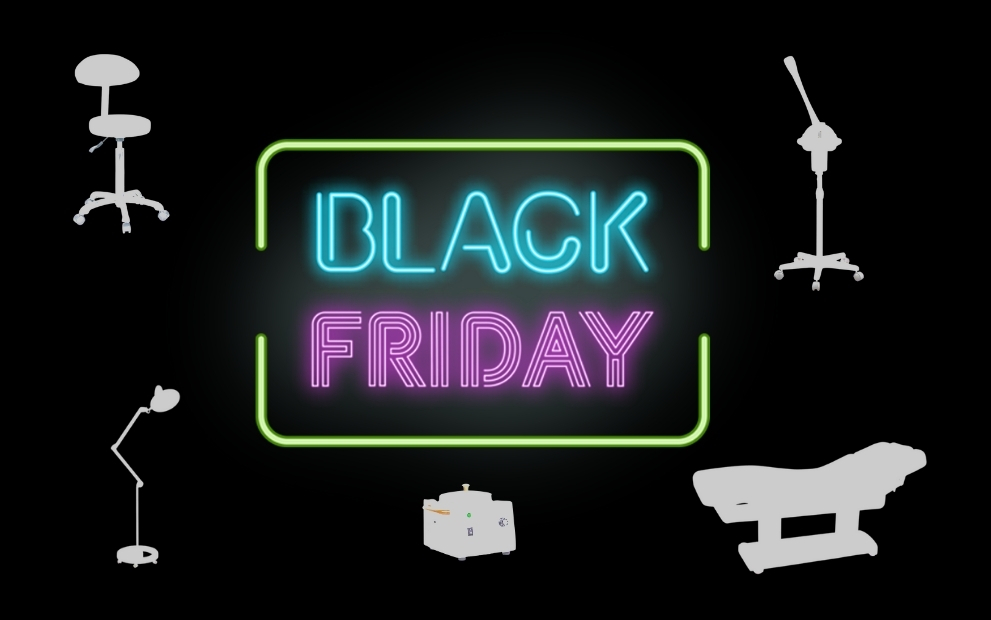 The Biggest Black Friday
of history
is closer to you
We have been preparing this moment for many months!
That's why we go Black mode!
We are already preparing the ❤ Black Friday 2020 ❤.
Next Black Friday will be on November 27, 2020, but don't worry, you won't have to wait until Black Friday itself to find out about all the offers we have prepared. Before you will have a whole Black Week ahead of you in which every day will be a new opportunity to get your stretcher, manicure table, appliances at the best price.
Sign up for the agenda on November 22 at 22:00 reserved by Black Friday MaterialEstetica.com
You can't miss the best Black Friday Beauty deals!
The Big Surprise!
+ All Black Friday offers
¡
BLACK FRIDAY EN ESTÉTICA!
El próximo Black Friday 2020 será el 27 de noviembre ¿Te lo vas a perder? Las mejores ofertas en Cosmética, Aparatología, Mobiliario, Maquillaje, Semilac, Peggy Sage y material profesional centros de estética, centros de fisioterapia...
¿QUÉ ES EL 
BLACK FRIDAY

?

El Black Friday (también conocido como Viernes Negro) no es un evento de descuentos, es EL EVENTO de los descuentos por excelencia. Esta celebración tiene su origen en Estados Unidos y siempre es el día siguiente al Día de Acción de Gracias. Con él arranca la temporada de compras de Navidad, ya que en ninguna época del año es posible encontrar tantas ofertas como en esta época del año y muchos usuarios adelantan sus compras navideñas. Durante el evento, las tiendas, normalmente de moda, complementos, tecnología e informática, ofrecen descuentos y ofertas increíbles por tiempo limitado -especialmente los ecommerces-, aunque este evento tiene su origen en el comercio más tradicional.
¿Cuándo es el Black Friday 2020?: Día y Fecha
El Black Friday 2020 será el próximo viernes 27 de noviembre.
Black Friday 2020 en la tienda de Castello d'Empuries
La tienda ampliará su horario para que puedas ir a recoger tus pedidos realizados por la web. De esta forma, ahorrarás en tiempo al no tener que hacer colas ni esperas para comprar o recoger tus productos.