With this pack you can offer a wide range of treatments with the convenience of making a single purchase and also saving more than if purchased separately. Here we have what is included in this offer.
Multifunction Machine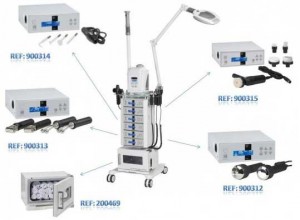 It is a structure that includes several compact aesthetic devices. It takes up almost no space, yet offers great versatility of treatments.
This multifunction machine includes the following modules:
It also has wheels for easy movement and has supports to neatly hold all the devices. Thanks to all these convenient features, the professional who uses the device will not have to worry the least and will be able to concentrate on offering each customer a quality service.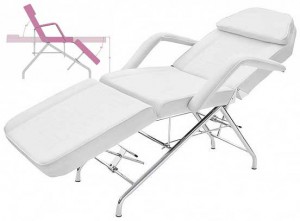 This beauty couch, Apolo model, consists of 3 parts and supports multiple positions. The tilting of the backrest and footrest can be adjusted independently. In addition, the armrests and headrest cushion are removable. It also has a facial hole in the headrest, for the comfort of customers when lying face down.
The couch is upholstered in good quality white PVC, offering strong resistance and is very easy to clean. The supporting structure is of light metal and chrome. This bed supports up to 150 kilos and measures 183×63 cm.
Furthermore, also included is a three-shelf trolley equipped with wheels and a hydraulic stool, also with wheels. This way you always have everything at hand and the professional can move freely.
Depilatory wax warmers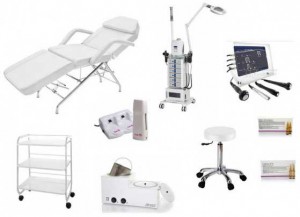 This offer includes two types of wax warmers. On the one hand, there is the 9 litre wax melter. On the other, there is a comfortable roll-on wax heater that supports two applicators. In both cases, the right temperature wax will always be available when necessary.
Mesotherapy equipment and treatment ampoules
It also includes a mesotherapy device, which using electrodes, allows the active ingredients to be transported through the dermis. For example, you can use caffeine ampoules and DMAE + silicon ampoules that are included in the pack for applying an anti-cellulite and reduction treatment.