What is radiofrequency (RF)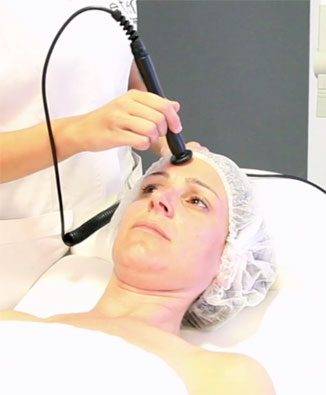 Radiofrequency is a non-invasive beauty technique used to obtain a lifting effect. It is a facial rejuvenation technique that applies heat to the deeper layers of the dermis.
This treatment, which consists of controllably heating the different layers of the dermis, favors the creation of new collagen, providing aesthetic benefits. For example, it helps to sculpt the body, tighten sagging skin and improve its luminosity.
How does it work?
RF makes, through an electric wave of micropulses, skin temperature to rise in a controlled and deep way. RF generates heat in the treated area, acting on tissues and stimulating blood circulation and the formation of collagen and elastin, essential substances to keep a smooth and youthful skin. Specifically, the treatment involves making the body believe that there is an attack in the area being heated. This causes the body to react by sending regenerative elements to this area, which make tissues rejuvenate naturally.
What are its effects?
Radiofrequency is a simple beauty treatment that provides facial and body aesthetic benefits. Its effects are:
It stimulates blood circulation.
It stimulates the production of collagen and elastin.
It improves skin elasticity.
It reduces the appearance of wrinkles.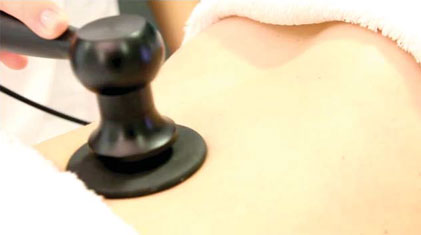 Among the facial benefits, it stands out an immediate lifting effect, as well as the draining of puffiness of the periocular are, bags under the eyes and decreases the expression wrinkles.
Regarding to body benefits, radiofrequency is helpful for tissue tightening, for increasing the metabolism of adipocytes and to increase lymphatic return system. It also helps to improve the orange-peel skin.
Therefore, radiofrequency treatment would be indicated for:
Fine facial expression lines
Flaccidity
Countouring jaws and chins.
Softening ridles and lines around the eyes, mouth and forehead.
Improving fl accid skin under the chin.
Localised adiposity.
Finas arrugas de expresión.
Flacidez.
Duration of treatments
RF standard treatment consists of between 4 and 10 sessions. The sessions usually last about 10 minutes for facial treatments and about 30 minutes in the case of body treatments.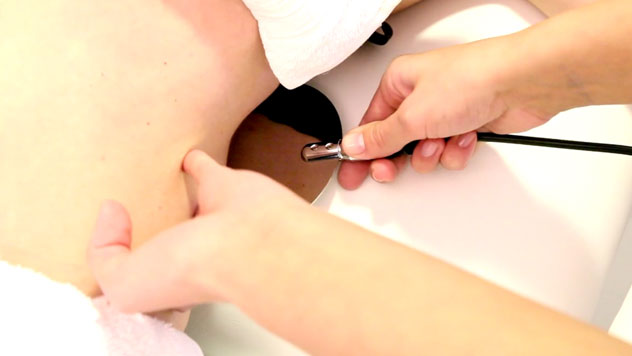 It is advisable to leave an interval of 15 days between each session. RF sessions may be conducted at any time of year. Once treatment is over, we recommend maintenance sessions after a few months.
The results can be seen from the fourth or fifth session. Currently, radiofrequency is used supplementary to presotherapy and cavitation treatments. It is used to regain muscle tone.
Contraindications
Radiofrequency treatments can not be applied in the following cases:
Pregnancy and breast feeding women.
Severe heart disease.
Diseases of connective and muscular tissues.
Blood coagulation diseases.
Cancer.
People with pacemakers.
Metal plates or prosthesis in the treatment area.
Recent collagen implants.
Very overweight patients
Monopolar radiofrequency equipment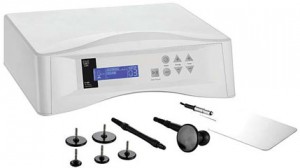 This RF machine is specially designed for beauty professionals. As it is monopolar, it uses an emitter electrode in contact with the skin and a return plate located in an area near to the treatment area. This system allows the passage of RF current through the body part situated between the two electrodes, allowing heat to penetrate deeper.
This monopolar radiofrequency equipment consists of 5 heads and two handles, either facial and for body, for small and very localized areas.
The equipment comes with a handle with 4 facial ceramic electrodes of different sizes and a body handle with 3 body electrodes. It also includes the metal plate to the return circuit, for both body and facial treatments. The emission of electric current is performed through a single electrode (monopolar radiofrequency), the maximum operating power of 150 watts and frequency is 0.3 MHz.
The equipment has two types of waves:
continuous wave for higher heat effect, and
pulsed wave, for sensitive skin..
Remember, conductive gel should be applied during treatment.
This radiofrequency device is a desktop independent apparatus, however, it can be placed in combination with a second device in the Kpsule multifunction equipment.